A lot of stuff seems to go missing in the HRT, especially now it has livened up. I will post anything useful here. Links/files etc.
I will post the links etc in the first comment(this one. They will then be referenced in the relevant comment if applicable. Feel free to question away.
GENERAL RESOURCES
This calculation will work out your drawdown.
=MIN((Y2-MAX($Y$2:Y2))/MAX($Y$2:Y2),0)
You need to apply it to your running total column as I have done in the example below. Make your first row your starting bank. This then needs to be applied to the whole column.

This calculation will then show you your highest bank drawdown. It needs to be applied to the relevant column.
=MIN(AH:AH).
It will then give you a largest drawdown figure like this.

Courtesy of Martin Futter
Odds Probability Table to calculate odds against strike rate
https://www.isfa.com/odds-probability-chart.html
Courtesy of Matt Wood
If anyone uses google sheets and you have your filter S/R, then in the cell next to it put this:
=1/(E16/100)/100 (e16 being the cell with the % S/R)
Should auto calculate the odds required (not counting for commission)
Courtesy of Richard Latimer
Useful Trading Links
www.bettingtools.co.uk
www.aceodds.com
Estimate Losing Runs
https://www.google.com/amp/s/thebetinvestor.com/guide/how-to-estimate-your-longest-losing-sequence/amp/
HORSE SPECIFIC RESOURCES
Horse Software Tips
Always run two versions of your strategy. One called results with all your filters and one called qualifiers with variables like number of runners removed. You can then filter these manually or on your bot as they change a lot.
The Original Maria Staking Thread from 2005.
http://web.archive.org/web/20080731055615/http://www.expertbettingadvice.co.uk/forum/thread18432.html
Essential Horse Trading Links.
https://www.cheltenhambettingoffers.com/articles/glossary/
https://betfairtradingcommunity.com/en/blog/horse-racing-trading-ultimate-trading-start-guide
https://betfairtradingcommunity.com/en/trading-strategies
https://www.timeform.com/horse-racing (Information on the days racing and past results)
https://www.racingpost.com/non-runners/ (Going and non runners for the day)
Important Definitions for Inrunning trading

Dream maker 62's LTB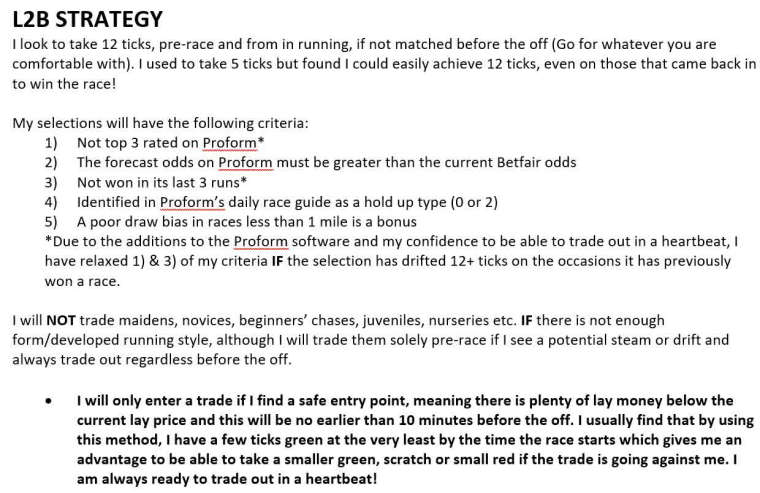 My DOB/TROB/WIN rules

last edited by John Folan